SAFETY TIPS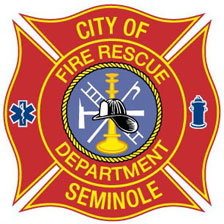 *Download and print the City of Seminole Fire Rescue Home Safety Checklist*
Don't Toy with Safety
Toy safety should be at the top of your list when you select Christmas presents for children.
Always read the warning label on the box before buying any toy. This will give you the information about what age child the toy is designed for and whether adult supervision is recommended.
It's vital that you read and follow the age recommendations on toy packages, since a child might misuse a toy that's too simple or too advanced for him or her. Age recommendations related to a toy's safety are based on: possible choking hazards; the physical ability of a child to play with the toy; a child's ability to understand how to play with a toy; and a child's needs and interests at various points of their development.
In general, the bigger the pieces, the better it is. Many toy stores have charts to help you determine how big a toy part should be in order to prevent choking. It's also important to keep younger children away from their older siblings' toys. Toys that may be appropriate for older children, especially those with small parts or projectile parts, should be kept away from small children.
If you're going to buy a bicycle for your child, make sure it's the proper size. A bike that's too big for a child will increase the risk of injury. And when you buy a bike for a child, make sure you include all the proper safety gear.
The economic downturn may also drive discount-seeking parents to buy used toys that are tainted by lead or have dangerous designs.
There is particular concern that money-conscious parents will purchase holiday gifts from secondhand, online sellers who may not be aware of safety issues.
Even though lead has been banned in paint in the United States since the 1970s, it has still turned up in millions of toys in recent years. Lead poisoning can cause irreversible learning disabilities, behavioral problems and, at very high levels, seizures, coma and death.
The National Safe Kids Campaign has more about toy injuries.
Fire Safety Tips
More than 4,000 Americans die and more than 25,000 are injured each year in fires. The vast majority of these deadly fires occur in the home. Home heating, careless smoking and cooking are the leading causes of fires in the home.
Knowing what to do should fire occur is very important. More important still is the prevention of a fire. Take the time to inspect your home for possible safety hazards, bare wires, and improperly operating heating equipment. Fire prevention is something the entire family may participate in. Encourage children to assist with checking the home for hazards.

Eliminate potential hazards:
Keep matches, lighters and other heat sources out of children's reach. Playing with matches and lighters is the leading cause of fire deaths for children ages 5 and under.
Avoid plugging several appliance cords into the same electrical socket.
Replace old or frayed electrical wires and appliance cords, and keep them on top of, not beneath rugs.
Keep flammable items such as clothing, furniture, newspapers or magazines away from the fireplace, or portable heater.
Store all flammable liquids such as gasoline outside of the home.
Prepare your home:
Install smoke alarms on every level of your home and in every sleeping area. Test smoke alarms monthly. Maintain alarms by replacing batteries at least once a year, and replace alarms every 10 years.

Plan and practice two escape routes out of each room of the house. It is important to have an alternate escape route in case one is blocked by

Designate an outside meeting place, so all members of the family can be accounted for quickly.
Teach safety:
Children should know the sound of the smoke alarm. When they hear it, teach them to:
Crawl low under smoke. An estimated three-fourths of childhood fire deaths are caused by the smoke and toxic gases produced as a fire develops and spreads.

Touch doors before opening them. If the door is hot, use an alternative exit.

Never go back into a burning building. Children should be reminded not to stop or return for anything, such as a toy, a pet, or to call 9-1-1. A call to 9-1-1 should be placed after leaving the premises.
For a complete home safety evaluation, call (727) 393-8711. A free Home Fire Safety Survey will be conducted for you.
Drowning Prevention Safety Tips
Nearly 75% of all childhood drowning in Pinellas County take place in a backyard swimming pool. It is important to be sure that the following safety measures are in place in your back yard!


BARRIERS OF PROTECTION
Pool fences must be a minimum of four feet high and must surround the water on all four sides.
All doorways entering into a screen enclosure should be self-closing and have self-latching gates. Door handles should be above a child's reach (54").
Door and windows leading from the house to the pool should be equipped with entry alarms, with a disabling mechanism above a child's reach.
SUPERVISION
Never leave a child alone near the water, not even for a second!
Designate a child watcher at all social functions.
Never assume someone else is watching your child.
Never rely on "floaties" or floating toys to protect your child from drowning.
Make sure all baby-sitters and other child care providers know how to swim, know CPR, and know how to react in an emergency.
BE PREPARED
If a child is missing, look in the pool area first.
If you find a child unconscious in the water, yell for help; get the child out of the pool and onto the pool deck.
Have a phone installed at poolside, or have a cordless phone with you, and dial 911 immediately in the event of an emergency.
Know CPR
Make sure everyone in the family knows how to swim.

For a complete pool safety evaluation, call (727) 582-2074. A free Poolside Safety Survey will be conducted for you.