PUBLIC SERVICES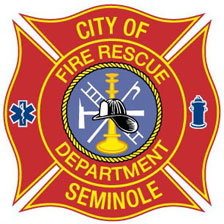 Free Smoke Alarm Program!
This program targets privately owned households in the greater Seminole area. Everyone is encouraged to have at least one smoke alarm on each floor of their home! The goal of our program is to provide a smoke alarm to anyone in the City of Seminole Fire Rescue district who expresses a need for one. We will replace batteries, advise on proper installation, provide maintenance information, and install the alarm as requested by the resident. There is no charge for this service. This is a statewide initiative that was adopted by the City of Seminole Fire Rescue on 1992. To request an appointment for installation of a free smoke alarm, please contact the Public Education Officer at (727) 393-8711 ext. 210. Citizens outside the Seminole fire district should contact their local fire department for similar services.
Special Needs Evacuation
The City of Seminole Fire Rescue participates in the Pinellas County Evacuation Assistance Program. To register for evacuation assistance a registration form must be completed and submitted to The City of Seminole Fire Rescue Administration or:
Pinellas County Emergency Management
400 South Fort Harrison Ave Room # 111
Clearwater, FL 33756
If the citizen is receiving Home Health Care, Counseling, State Assistance, or some other home-based service they should be screened and registered by that agency.
If there is no Home Health Care provider the citizen may obtain a registration form by calling Pinellas County emergency Management at (727) 464-3800, by calling the City of Seminole Fire Rescue Administration (727) 393-8711 ext. 210, or from the Emergency Management website http://www.pinellascounty.org/forms/special-needs.htm
Pool Safety Inspection
Drowning is the second leading cause of unintentional injury-related deaths to children ages 14 and under. A temporary lapse in supervision is a common factor in most drownings and near-drownings. Child drownings can happen in a matter of seconds in the time it takes to answer the phone. There is often no splashing to warn of trouble. Children can drown in small quantities of water, and are at risk in their own homes from wading pools, bathtubs, buckets, diaper pails, and toilets as well as swimming pools, spas, and hot tubs.
The City of Seminole Fire Rescue works in conjunction with the West Central Florida Drowning Prevention Coalition to provide the community with safety tips on how to keep children safe from a drowning incident.
For a complete pool evaluation, call (727) 582-2074. A free Poolside Safety Survey will be conducted for you.

Home Fire Safety Inspection
In the United States , 85% (3,420) of all fire deaths occur in the home. The three leading causes of residential fires are heating, cooking, and electrical malfunction. The City of Seminole Fire rescue Department is committed to helping protect your family from a fire injury or death. As part of this pledge, we offer free home fire safety inspections to citizens in our community. We will identify fire hazards in your home and provide safety tips for prevention and escape in the event of a fire.
Please call (727) 393-8711 ext. 210 to schedule a free Home Fire Safety Inspection.